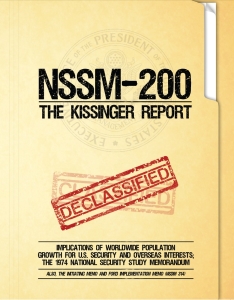 In the course of researching eugenics, past and present, it became clear that one of the ways that eugenicists refashioned and re-framed their agenda was under the banner of 'population control.'  Nearly all of the early advocates for population control were also outspoken advocates for eugenics (eg, from 1930 to 1959).  By the 1960s, the transition had been made so complete that no reference to 'eugenics' needed to be made, despite the earlier ideological kinship.  The 'over-population' problem was cast as something serious in its own right, and by 1969, had finally won the overt support of an American president.  These efforts led to the development of a highly classified memo, National Security Study Memorandum 200 (NSSM 200 or NSSM-200), which President Gerald Ford directed to be implemented.
Though there are significant overlaps between the individuals and ideologies involved in the eugenics, 'family planning,' and 'population control' movements, NSSM-200 deserves its own treatment, which is now located here: http://nssm200.com/
In due time, an essay specifically touching on the eugenicists role in promoting population control will be penned, and likely posted on that site and this one.